See on Scoop.it – Connectedness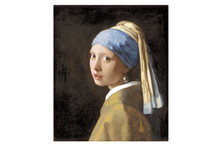 Like a reclusive rock star, Johannes Vermeer's "Girl With a Pearl Earring" rarely goes on tour—and when she does, she's met by a stampede of fanatical fans. That's likely to be the case when the painting, often called the "Mona Lisa of the North," arrives in the U.S. this month. "Girl" will be on view as part of a new exhibition, "Girl With a Pearl Earring," opening Saturday at the de Young/Fine Arts Museums of San Francisco. On June 22, it moves to the High Museum of Art in Atlanta. And on Oct. 22, it arrives at the Frick Collection in New York. The last time the painting was in this country, as part of a 1995 Vermeer exhibition at the National Gallery of Art in Washington, lines circled the block.
Lori Marie Cuene's insight:
From the infamous Dutch painter who specialized in domestic interior scenes of middle class life.Vermeer painted mostly domestic interior scenes. "Almost all his paintings are apparently set in two smallish rooms in his house in Delft; they show the same furniture and decorations in various arrangements and they often portray the same people, mostly women"
See on online.wsj.com